Denmark to Support Bhutan's Organic Agriculture
Bhutanese officials said that the country is venturing into commercial organic agriculture in the 12th Plan.
"However, we lack qualified people and need to build capacity, including in research and development," planning officer with agriculture ministry, Sangay Chophel, said.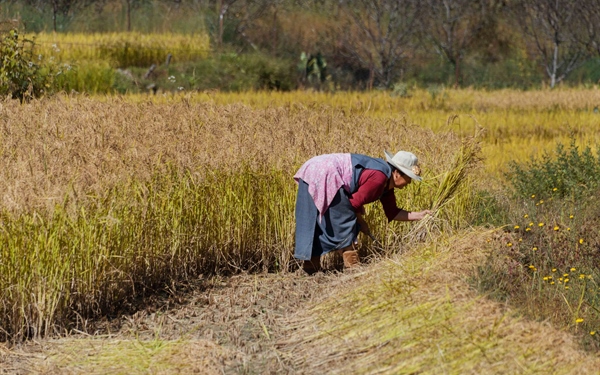 Rice Harvest in Bhutan (Source: DrukAsia)
At the second high-level biennial consultation between Bhutan and Denmark in Thimphu yesterday, the Danish side agreed to explore ways to provide assistance.
Bhutan will submit a proposal to the Danish government for support in organic agriculture, among others.
Director General of Bilateral Affairs, Kesang Wangdi, led the Bhutanese delegation comprising officials from the Gross National Happiness Commission, agriculture ministry, Centre of Bhutan Studies and GNH Research and the foreign ministry.
Denmark's Ambassador to Bhutan, Peter Taksoe-Jensen, was accompanied by Deputy Chief of Mission at Royal Danish Embassy, Mette Ekeroth.
Why Bhutan should adopt organic agriculture?
Good alignment of the principles of organic agriculture with the country's development philosophy, strong policy and political support, pristine environment and the organic agricultural practices being similar to traditional farming were identified as some of the advantages for Bhutan to opt for organic agriculture.
Bhutan officially launched the policy for organic farming in 2007 and proclaimed the intention to become a fully organic country by the year 2020.
Organic agriculture could help boost food security besides helping the country meet other SDG goals like Good Health and Wellbeing, Climate Action and Partnership for the Goals.
How can Denmark contribute to Bhutan?
Ambassador Peter Taksoe-Jensen said that his country has the expertise. "We also have a long tradition of agriculture in our country," he said.
Denmark is one of the largest growers of organic farm produce. Only one farmers' group with 50 members from Gasa is certified as organic in the country today.
Kesang Wangdi said that the Bhutanese delegation has formulated potential project proposals in the areas of digitisation, cultural exchanges and climate change.
The biennial consultations have, over the years, provided a useful mechanism for the exchange of views on issues of mutual interest and in promoting better understanding and partnership.
At the core of development partnership between Bhutan and Denmark has been the shared principle of promoting people's welfare and to contribute towards international understanding and cooperation.
Danish developmental assistance phased out of Bhutan in 2015. Kesang Wangdi said that Denmark's financial and technical support has been vital in the realisation of Bhutan's developmental goals and peaceful transition to democracy.
"The innovative approaches that the Danish government took from project to sector or programme support to budgetary support, showed Denmark's confidence in Bhutan."
Even as formal development cooperation ended, a new partnership defined by political, cultural and economic relations, has already begun with the signing of the framework for continued Bhutanese-Danish Partnership signed in 2012.
This framework provides for cooperation in the fields of mutual interest, including global security, democracy, good governance, human rights, culture, environment and climate change, he said.
"We will continue to rely on our good and trusted friends like Denmark in fulfilling our aspirations of achieving economic self-reliance and in nurturing the strong foundations of democracy," Kesang Wangdi said.
The next biennial consultation will be held in Copenhagen, Denmark in 2019.
By Tschering Dendup (This article has been edited for the Bhutan Times)