Techstars Startup Weekend Bhutan (Eco-Tourism): 54 Hours where innovation meets happiness and sustainable development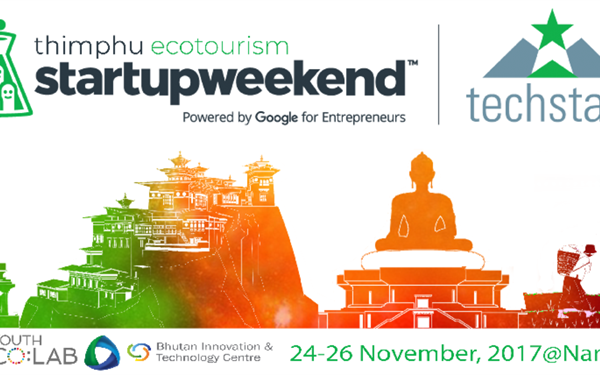 (Source: https://www.facebook.com/SWBhutan/)
Techstars Startup Weekend Bhutan (Eco-Tourism) won the hearts of many Bhutanese
Held from 24th - 26th November, 2017 at the Namgay Heritage Hotel, the Eco-tourism edition of Techstars Startup Weekend Thimphu in Bhutan, for aspiring startup eco-entrepreneurs, supported by the UNDP of Bhutan and Youth Co:Lab, won the hearts of many people in Bhutan last weekend in Thimphu.
The eventful weekend saw 130 keen people in attendance, of which 56 pitched ideas. This was the fifth time that such an experiential learning method was implemented in Bhutan to teach entrepreneurship first hand.
One of the participants, Ruma commented on the merits of the Techstars Startup Weekend, "What I like about events like Techstars Startup Weekend is that you do something not because it is your duty to do it but because you feel passionate about it and you want to serve others."
For three dynamic days – enthusiastic young participants and experienced industry leaders spent many sleepless nights, in a marathon-like quest to incubate ideas, brainstorm solutions, identify open untapped markets and discuss key innovations that might shape the future of the tourism industry in Bhutan.
Ecotourism as the main theme for 2017's edition of the Techstars Startup Weekend
Another eager participant, Sagar mentioned that, "most of the tourists that come to Bhutan are eco-tourists, they come here for trekking and hiking. I came to this event because I feel like this trend should be continued and Bhutan should keep focusing on ecotourism. I see a lot of scope in the field of ecotourism in Bhutan."
13 teams went on to develop projects that were pitched in front of His Excellency the Prime Minister of Bhutan, Tshering Tobgay.
His Excellency the Prime Minister, after watching the participants pitch the start-up projects stated (sic):
"We live in in a start-up nation. It is up to all of us to fulfil the potential that we have here to create the start-up nation together. We are unique. Our start-up journey started many decades ago as a small impoverished country. Our Kings decided to give us free education and healthcare and to focus on Gross National Happiness (GNH). Your ideas reach out to community and the environment. They reach out to the poor and to the community. Here in Bhutan, it is clear we go beyond the bottom line."
Who are the organisers of the Techstars Startup Weekend?
First of all, it is essential to introduce Techstars, which is a worldwide network of industrial leaders that helps entrepreneurs succeed. Through the Techstars Worldwide Entrepreneur Network, founders and their teams connect with other entrepreneurs, experts, mentors, alumni, investors, community leaders and corporate partners to help their companies grow.
Anurag Maloo, the Regional Manager for South and Central Asia for Techstars said,
"Entrepreneurs are the leading drivers of prosperity, jobs, innovation and sustainable development. Without entrepreneurship, communities would cease to move forward within their local economies and in the world. There are 5 essential ingredients - talent, density, culture, capital and regulatory environment, working together to create an environment for ideas to thrive and foster successful entrepreneurial ecosystems in Bhutan. The ultimate vibrancy and health of a start-up community will have an extremely strong influence on the creation of successful entrepreneurs as well as the likelihood that entrepreneurs stay and build their businesses as opposed to moving somewhere out of Bhutan"
This organisation also allows entrepreneurs to accelerate their pace of innovation and achieve more productivity in a shorter span of time.
The Techstars Startup Weekend is the brainchild of a global network of entrepreneurs and leaders (www.startupweekend.org) whose purpose is to gather the most passionate and enthusiastic people under one roof, for a powerfully charged weekend of incubation of entrepreneurial ideas, mutual assistance and collaboration, and active brainstorming.
The main intention is to start and fund the next best start-up with the help and guidance of industry experts and mentors.
Dipan, who is an entrepreneur and Start-up Weekend Bhutan mentor said that, "The entire process that Start-up Weekend follows is really helpful. The informal setting of the event really inspires young entrepreneurs to shape their business ideas."
So far, the Techstars Startup Weekends have hosted entrepreneurs to build start-ups through more than 1,000 such events per year, covering more than 150 countries. The group has also went on to create the Techstars Startup Weekend and the Techstars Accelerator.
Purposes of the Youth Co:Lab
The Youth Co:Lab is the Asia-Pacific Youth Entrepreneurship Initiative faction of the United Nations Development Programme's (UNDP). It provides support to an alliance of local actors in Bhutan such as the Thimphu Tech Park, Techstars and Youth Co:Lab.
Focussing on international, regional and local nexus, the Youth Co:Lab brings a diverse set of expertise together to support participants in the development of their projects.
Through national dialogues in over 14 countries across the Asia-Pacific region from 2017-2018, the Youth Co:Lab has successfully connected young social entrepreneurs with leaders, businesses, incubators and accelerators to develop ideas and business models for substantial social impact in their communities.
The project specially targets youth-driven social entrepreneurship as a legitimate development agent. Niamh Collier-Smith, the Deputy Resident Representative for UNDP Bhutan, shared her thoughts on the huge potential of youth in Bhutan.
She highlighted that,
"The brightest path to the future is not about hard currency, it is about ideas. As we saw during the Techstars Startup Weekend there is a huge wealth of ideas coming from young people here. At UNDP, we see our role to support the partners here in Bhutan who are harnessing these ideas and helping young people to become entrepreneurs. Whether it is through the Sustainable Development Goals or Gross National Happiness, ensuring that young people see a future for themselves, one that is designed by themselves, is hugely important."
The young participants proved their worth by displaying great passion and motivation during the event, suggesting that the Techstars Experiential Method really worked. It has productively helped to spur more start-up development practice, as well as brainstorming on ecotourism related themes that may work.
And the fruit of their three days of intense labour culminated in the highlight when the top three winners were announced.
The top prize went to Miniature Bhutan – a sustainable souvenir manufacturer, followed by Happy Paper, a paper recycling firm and the third prize was awarded to an incense-development start-up.
Their prizes included workstation positions and incubation support from the Bhutan Innovation and Technology Center as well as stays at luxurious hotels of Bhutan.
Tshering Cigay Dorji, CEO of Thimphu TechPark and lead organiser of Startup Weekend Bhutan highlighted the huge success of the event,
"Every time we organise a Techstars Startup Weekend, we come out inspired and fully energized by the passion of the participants though we have to work over the weekend with no rest. This is the third Techstars Startup Weekend that Thimphu TechPark has helped in organizing and we are so happy with the number of passionate participants we got. I am positive that the future of entrepreneurship in Bhutan is going to be great".
The consortium of organisations behind this year's Eco-Tourism edition of the Techstars Startup Weekend Bhutan is confident that the start-up ecosystem in Bhutan is sprouting. They believed that the backing provided by the Royal Government of Bhutan and the Thimphu Tech park, among many others, had been instrumental in realising their aims.
In fact, with the huge success of last weekend's event, Techstars and UNDP hope to work hand in hand to taking this to the next level. They want to speed up and strengthen the skills and training within Bhutan by organising more of such incubation events in the coming months. Stay tuned for an even more exciting 2018.
Written by Zann Huizhen Huang for the New Bhutan Times.